APPLE MUSIC INFLUENCES PLAYLIST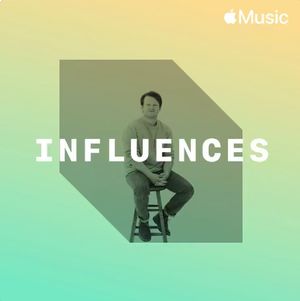 I teamed up with Apple Music to make a playlist of songs that have influenced me as an artist. 
15 tracks
Coldplay / The Scientist
Chris Martin's songwriting, piano playing, vocal phrasing and emoting have been a huge influence on me since Parachutes. Although I prefer their earlier stuff…I can't knock the band for evolving. Their live show is other worldly. The way this song builds. The falsetto. It's all stuff I strive to put in my songs.
John Mayer / Slow Dancing In A Burning Room
I'm not sure I would have gotten (pretty) good at guitar if it weren't for John Mayer. His insanely difficult guitar riffs and the years I spent trying to learn them have given me the foundation as a guitarist to write songs of my own. Slow Dancing In A Burning Room has this "cool blue" colour to it and I think a lot of my guitar songs have a bit of that. Caught Up. Just You. They're very indebted to this song.
Paul Simon / Graceland
There are some old home videos of my family dancing in the living room to this song. It's incredible how a song that feels so good can be so sad. "Losing love is like a window in your heart / everybody sees you're blown apart". My song, Boy, tries to the same trick; feels good to listen to but when you dig in there's a real hurt to it.
A lot of my fast lyrical phrasing comes from this guy as well.
Sam Roberts Band / Detroit 67
Sam Roberts hit it big in Canada right as I was getting to that perfect age. His ability to craft classic, bulletproof songs was a huge influence on me. I was previously in a rock band and Sam Roberts was the pinnacle for us. The swing to this song. It's impossible not to move your body when you hear it.
The Beatles / A Day In The Life
It's hard to choose one song by these guys because they're without a doubt the biggest influence on me. I picked A Day In The Life for a few reasons though. 1) It's adventurous. The string crescendo section, 50+ years later, still feels wild. 2) the song structure is not typical. It's multiple songs in one. 3) The sound of it. The drum sound. The different vocal sounds. The BASS! There's enough inspiration in this one song for a lifetime of music.
Paul McCartney / Maybe I'm Amazed
Maybe McCartneys best piano song. It's got everything and he's playing everything. Drums. Piano. Lead guitar. Bass. Insanity. I wish so bad that I could do that wailing McCartney scream…but it's just not in the cards. Regardless, this timeless song is always an inspiration when I sit down to write.
John Lennon / Jealous Guy
It's tough to find a more melodically  beautiful song than this one. I love that it's a rewrite. It started as "Child of Nature" in the late 60's. That version is kind of blah to be honest so it's a good reminder that, when writing, you're allowed to scrap things and start again. One of my favourite things about Lennon is that he has a great voice but he's not a technically great singer. He's not Marvin Gaye or Freddie Mercury. But I prefer his voice because I believe what he's saying. I'm not a technically great singer but as long as I'm singing like I mean it that's all that matters.
Tim Baker / Strange River
I must confess I wasn't really into Hey Rosetta back in the day. Not that I didn't like them. I just wasn't listening to them. When this Tim Baker solo record came out it really knocked me out. The singing. The songs. The emotion. The recordings. The kick drum sound!! The looseness of the recordings. The power of the groove. The uplifting group vocals. This song and this record are exactly the kind of thing that I want to make.
Vampire Weekend / Unbelievers
Talk about a consistent output. Vampire Weekend, if you're into them, have been the most dependable band on the planet for four records. This song pairs well with some of ours. Acoustic. Fast. Ezra's voice and mine have some similarities I think. I've been influenced by this band and Rostam's production for years. Their third record (Modern Vampires of the City) is like a modern era Sgt Peppers when it comes to production. The rules they break and the genres they mash up. I want to be that adventurous.
The Band / The Night They Drove Old Dixie Down
Talk about a classic. This song taught me that you can take a historical event and use it to craft a song. In some ways it's easier! Songs don't have to be autobiographical all the time … they can be 4 minute movies. My songs Vimy and Alabama are indebted to this one big time.
Fleetwood Mac / Go Your Own Way
About 15 years ago I bought Rumours at a Georgetown Walmart in a bargain bin. It was on all the greatest albums lists but I hadn't really listened to it before. Man. What a gift to be able to experience that album for the first time. We've heard these songs on the radio so much that you forget that Go Your Own Way is a friggin awkward song. Weird drum pattern. Weird frantic guitar parts. And then that chorus drops in with the bass line. Incredible. Lindsay Buckingham is another guitarist that's had a big influence on me. The fingers. No pick. I love it. And to this day I don't like using a pick unless it's really necessary, even for solos.
Oasis / Don't Go Away
This was the first song I learned on guitar. I love Oasis. I love Noel's songwriting. I love Liam's voice. I love it. The bridge in this song is beautiful and Be Here Now is not as shit as everyone has grown to believe. If Stay Young was on there it would have been just as strong an album as the first two. Shoot me.
Sheryl Crow / Strong Enough
Acoustic guitar. Raw emotion. Fragility. Finger picking. It's everything that I love about songs and songwriting. I want to write something this good one day. One thing I don't understand about this recording is the vocal. Maybe it was the decade it was recorded. But the vocal is kinda…aggressive and nasally. Like Sheryl Crowe is one of the best singers of all time and she's snarling this one…it's so confusing to me
Lauryn Hill / Ex Factor
One of the best songs off of one of the best albums of all time. The production on this whole record is amazing and the drum sounds are something that I'd love to try out on future albums. The heartbreaking lyrical content paired with that groove is incredible. Lauryn Hills voice back then was absolutely perfect.
Michael Jackson / The Way You Make Me Feel
Without a doubt my love of music has a lot to do with Thriller, Bad and Dangerous. The Way You Make Me Feel has that same swing to it that Detroit 67 has. What is it about that groove that's so undeniable?!